This Huntington kit is one of my absolute favorites from the Fall/Winter Idea Book! I love the warm color tones in the papers and I also really, really like the fact that the stamps that come in this kit are generic enough that any pictures taken this time of year would work beautifully on this layout!
In addition to the items found in the Huntington kit, I also used the D1550 Happy Autumn stamp set (pictured below), not only because it was designed to coordinate with the theme and designs found in the patterned papers, but I also personally loved it! My favorite image in the whole set is the little stemmed flower cluster in which I stamped across the bottom of the layout. I was able to get three different colors on each image by first inking it the whole stamp with Olive ink, then used a craft sponge to swiped off the ink that was just on the four flower heads. Afterwards I hovered the stamp over a corner of the Autumn Terracotta ink pad so I was only getting that color on the flower heads and not the stems. The last step was to "stamp roll" the flower heads onto the Barn Red ink so all three colors were on the image prior to stamping it each time. It sounds more complicated than it actually is and is totally worth it when it's done! What do you think?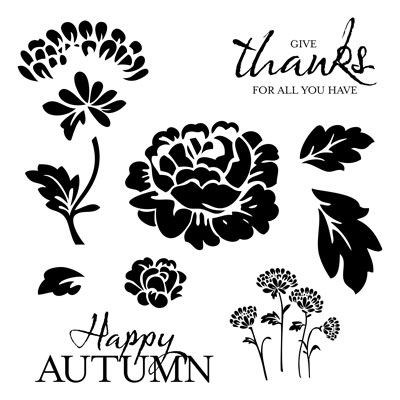 The final thing that I want to point out is the Cocoa colored lattice at the top of both pages. This overlay came from the New Cricut Artbooking Cartridge. I sized the shape to "fit the page" before cutting it which allowed for the perfect size for this layout.
I also created these fun cards using the same kit. As you can see, I used similar techniques and ideas from the above layout and incorporated them into their designs.
I hope that you enjoyed what I have had to share today. If so...feel free to leave me a comment! I'd love to "hear" your feedback!
Thank you for stopping by!